Last update: Oct 26, 2003
Jail Hurwitz Web Site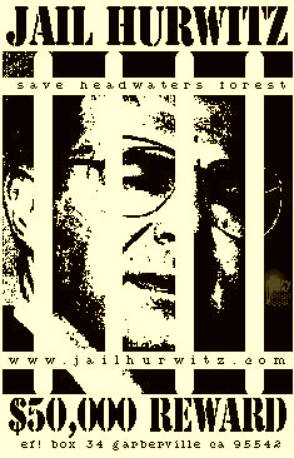 (These pages are under construction and are being updated as you read!)
Texas corporate raider Charles Hurwitz, with the help of junk-bond broker and convicted felon Michael Milken, looted and crashed a Savings and Loan, United Savings Association of Texas (USAT), costing U.S. taxpayers a staggering $1.6 billion!
With looted money funneled from the S & L, Hurwitz engaged in a hostile takeover of the Pacific Lumber Company, commenced rabid clearcutting, and tripled the rate of logging of the world's largest stands of privately held ancient redwood forests, including Headwaters Forest, a precious, sacred and irreplaceable international treasure of the ages.
Hurwitz simultaneously raided Pacific Lumber's worker pension fund, removing $55 million from the retired loggers and millworkers' nest egg, and began raping the company, selling off much of it's other liquitable assets for the quick cash he needed to make his pressing junk bond payments.
Hurwitz had previously looted the Simplicity Pattern worker pension fund in 1982, reducing worker benefits by nearly $4000 per year.
Hurwitz has entered into out-of-court settlements for insurance fraud, securities violations and a land swindleof his own company's shareholders! Hurwitz has lost seven environmental lawsuits over his incessant, illegal logging in these ancient redwood forests of Northern California.
How to Use This Web Site

MAXXAM's Kaiser Aluminum cancels pensions & benefits (Jan 12, 2004)
FDIC v. Hurwitz Restitution demanded by MAXXAM 10/1/03
Did Agencies Blow $10M Maxxam Settlement? 11/11/02
FDIC Suit imperiled by OTS Settlement 10/22/02
Oct 2002: Corporate Raider Charles Hurwitz Settles with OTS in S & L Case
Oct 2002: Texas Financier to Settle S&L Case (Fri Oct 18, 2002)
Aug 2002: FDIC Case Against Texas Businessman Hurwitz Moves Forward With Approval of Subpoena
www.judibari.org -- Earth First! Beats FBI in Constitutional Rights Lawsuit
9/2001: Sad Development of OTS vs. Hurwitz case..
Posted Aug 20, 2001: Richard Pombo -- guilty of influence peddling in Congress..??

The Headwaters Forest Coloring Book is Now Online!
Hurwitz 5 Action Alert Letters/
Calls and Emails Needed Now!
Believe it or not: MAXXAM Sues the FDIC
Hurwitz Photo Gallery
FDIC versus Hurwitz--the Original Complaint
The Hurwitz Five Scandal - 5/1/00
Many new media articles added!
---
Houston Federal Court Judge Lynn Hughes of the FDIC versus Hurwitz trial.
Hughes is real friendly to Charles Hurwitz and claims to
hate the government, even though it his employer. Click here for his picture.